Brain Robbers from Outer Space Official Homepage
Purchase DVD
Brain Robbers from Outer Space
Pre-Order your copy today and receive personally autographed covers by director Garland G. Hewlett.
Officially goes on sale and begins shipping Monday 8/30/2010.
Double Disc DVD Set

Interactive Menus

Digitaly Re-Mastered

Dolby Digital 5.1 Surround Sound

Bonus Features: Lawrence L. Ault's "They Call Me SaucerMan" Behind the Scenes Featurette
Garland G. Hewlett's "PSI-KICK MANEFESTO"
The Offical "Brain Robbers from Outer Space" Trailer

Domestic Shipping time 6-9 Business Days via USPS First Class Mail

$9.99 + $2.99(S&H)= $12.98 Total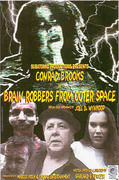 Postal Money Orders & Checks Also Accepted
Make Money Order or Check Payable To:
Damian Hewlett
Mailing Address:
309 Palm Key Cir Apt#106
Brandon, FL 33511 U.S.A.